Many years ago, to chase away the winter doldrums, I took a one day workshop offered at our local Sewing store that offered to teach us to make a teddy bear in a day. So I came home with my first bear at the end of that day.... and never looked back. It became a passionate hobby, while arousing a lot of interest in our small town.

I now make bears on custom orders for ladies with fur coats that need recycling! So far, I have used Persian lamb, muskrat, mink, rabbit, mouton, Hudson Bay seal, coyote and even wolf! The most popular size is 24 inches, since it fits the cherished 9-12 months size of baby clothes that some mothers keep! A smaller bear, 14 inch, is a perfect size for a small child to carry.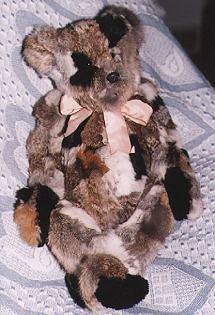 Patches
"Patches" is a 24 inch calico rabbit fur bear. He is fully jointed and poly-filled. His paws are made of Hudson Bay seal. He is incredibly soft to the touch. He wears a large peach-colored ribbon around his neck.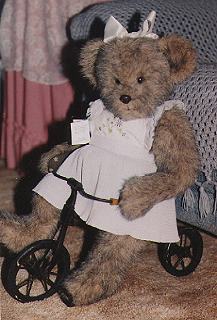 Ginger
"Ginger", 24", is made of tan/heather tipped synthetic fur. She is fully jointed, with poseable arms and legs. Her paws have cross-stitched toes and "heels". She wears a blue dress and white ribbon on her head.

All my bears are fully jointed. Some poseable, right down to their fingers and toes, as "Ginger" is! Other optional features are growlers, and a music box that plays "teddy bear picnic" while a red heart, placed outside of the bear (on the left side of the chest, of course), flashes for 30 seconds while the song plays.

I like to see the smile on customers faces when they receive their re-bears! It puts a smile on my face too!