Jutta is a prominent Canadian artist who has been making bears since 1987. She has received a great deal of recognition and praise including being the first Canadian invited to show her bears at the Walt Disney World Bear and Doll Convention.

Jutta's bears are wildly popular and she jokes that she never has enough inventory for the shows she has to attend as the furry creations disappear out of the door as soon as they are created. Jutta and her bears have appeared in leading teddy bear publications, including the cover of Teddy Bear Review.

Gator was Jutta's first bear and he is still very popular with collectors around the world. To celebrate Jutta's 10th anniversary as a teddy bear artist, she designed "Baby Gator" who has a strong family resemblance to his older brother.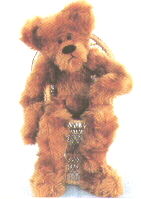 Gator: Open Edition. Variety of mohair, 19" in height, with bent legs and totally pellet filled.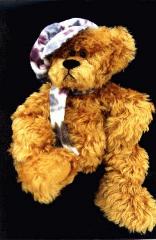 Baby Gator: Edition is closed.