I made my first bear in November of 1997 as a present for my little boy. Others that saw his bear wanted one also, so I started making bears almost full time. And then came Blackbeary Enterprises. I was bitten by the "bear making bug" and started experimenting with my own patterns. The bears have just designed themselves after that! Usually they take on the appearance of someone close to me or the person for whom they are being made.

Special requests have comprised the majority of bear creations with an emphasis on bears as Christening gifts. One of my favourites: the Bearaphim (instead of Seraphim) has been keeping me very busy.

The size of bear varies; 7" to 23" bears are the most frequently desired. The materials range from the finest mohair to old fur coats to synthetics and felts. Stuffed with everything from excelsior to glass beads, the bear gets what ever achieves the look to fit his/her personality.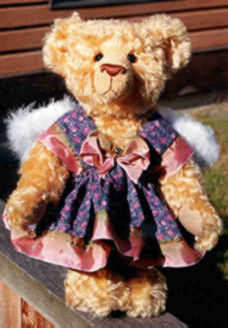 Heather Hummingbird (the Bearaphim)

is a fully jointed 13" bear made from mohair. She has ultra suede paws, glass eyes, German growler and hand stitched nose. She is stuffed with excelsior, polyfil and glass beads. The dress comes with or without wings and is limited to availability of supplies.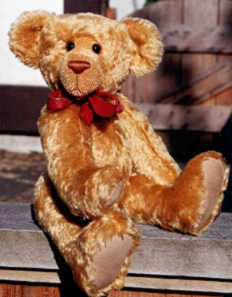 Kris

13" mohair bear has ultra suede paws, amber child safety eyes and hand stitched nose. A German growler completes this bear. Stuffing includes excelsior, polyfil and glass beads. Limited to the availability of supplies.