Judy Zuchetto of Bears Unlimited Inc. makes teddy bears from 1" to 32" from upholstery fabric, mohair and recycled fur coats. I have taken many classes which helped me to design my own line of teddy bears.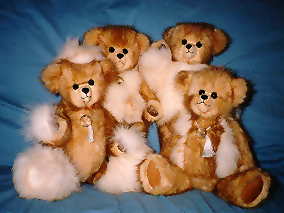 Recycled 17" teddies made from mink and fox fur -fully disc/bolt joints -sculptured faces with glass eyes and embroidered noses -stuffing is lambs wool and plastic pellets -accents are the fur coats buttons.

I won Silver in a competition at the Bear Fair, Calgary in 1996 and that gave me the confidence I needed to get serious about designing and creating loveable teddy bears.

Each bear has it's own characteristics; even though the same pattern is often used, each is very individual with a different attitude!

My speciality is the Recycling Fur Coats line, and I find this so rewarding as I feel I am sharing a little happiness with others. I design a special teddy bear for each customer giving personal attention and creating a custom Memory Bear from their treasured fur coat.

I am a member of the Chinook Arch Chapter of Good Bears of the World, Bearly Theirs of Springbank and the Teddy Bear Connection.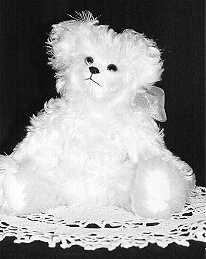 Snow is 10 1/2" tall made from 1" curly mohair and matching ultra suede paws. - sculptured face, glass eyes and embroidered nose - cotter pin joints makes her very cuddly - stuffing poly-fil and plastic pellets. Can be made from other colors.
---
Judy Zuchetto
Bears Unlimited Inc.
R.R.#2 Stn. LCD 1
Calgary, AB. Canada
T2P 2G5 (403) 286-8354
fax.(403) 288-7143

Email: zuchetto AT cadvision.com