Bear making has been part of my life in some form or fashion ever since I can remember, creating my first original pattern (crude but cute) when I was about 9 years old. What I wouldn't do to have that bear now!

I do still make the occasional larger scale bear, but mini's have captured my heart. I like to work with Mohair, vintage fabrics, upholstery fabric or a combination of all of those and some bears I add painted highlights to as well.

I design all my patterns myself and for the most part each of the bears are one of a kind, I may reuse a pattern in the future but the bears will never be alike, they are each unique with their own personal features and personalities.

A bear, irregardless of it's size can be many things. It should, first and foremost, make a person smile, and if one of the bears I create does that, then all the many hours of work are well worth the effort. A bear should be able to bring comfort when needed, always lift the spirit, and if they can evoke a giggle or two that's even better.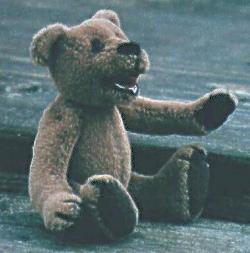 Foz

"Foz", open-mouth design, is made from upholstery fabric. He is 2 1/2" and string limb jointed.


Ursula

"Ursula" is 2 3/4" and made from Mohair.
She is string limb jointed, and cotter pin jointed in the neckl.