Catharine was involved in Graphic Design before discovering the art of soft sculpture. A few years ago, she designed and created a whimsical little dog for her son and was instantly captivated by the art form and the artistic freedom it provided. This led to more dogs, which soon led to bears, cats, mice and rabbits. When the manufacturer Ganz saw some of these characters, she was asked to design for their "Cottage Collectibles" line, which is sold worldwide.

Catharine finds nature and the countryside a never-ending source of inspiration. Her creations are mostly One of a Kind or very limited editions. All the designing, cutting, machine and hand sewing are done herself. Imported mohair, alpaca and synthetics are used, as she likes the variation of the fabrics and always likes trying something new.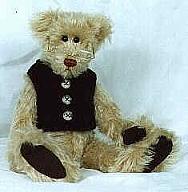 EDMUND

12", German Schulte wavy mohair, with synthetic suede paw pads and German glass eyes. Polyfilled and fully jointed. ONE-OF-A-KIND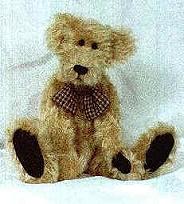 CORNELIUS

11-½", German Schulte wavy mohair, synthetic suede paw pads, German glass eyes. Fully jointed and polyfilled. ONE-OF-A-KIND



Catharine finds faces and expressions the most important aspect of bearmaking, as well as quality workmanship and attention to detail. A lot of time is spent on each face to ensure the bear's personality shines through. Each soulful little face must look back at her and speak to her heart.