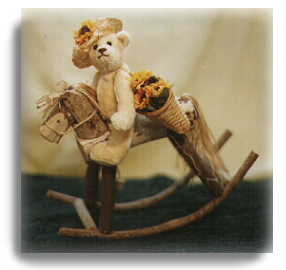 Sunny


Sunny is 4½" tall. He is made of hand-dyed upholstery velvet and has real suede paws. His eyes are glass beads and he has an embroidered face, thread jointed and is sporting a tiny straw hat with a small sunflower on it. He has been out picking sunflowers and has a basket over his shoulder and is riding home on a rustic stick rocking horse.
I immigrated from the Netherlands in 1952 and brought with me my own teddy which I still cherish today. He has been a great inspiration in my bearmaking.

My bears range in size from 1" to 42". Over the years they have gradually become smaller and smaller, somehow challenging myself to see just how small I could go and still keep the quality and character of each bear. Expressions are very important to me so a great deal of time is spent on the face. I enjoy putting them in a setting or have them doing something, so I am always on the lookout at flea markets and antique shows for tiny accessories which I can incorporate to form a new little character.

My miniatures are gaining popularity everywhere. They have made their way to Europe as well as Disney World in Florida and many parts of Canada from B.C. to Nova Scotia. More recently, they will appear in an upcoming issue of Teddy Bear and Friends. My bears can be found primarily at shows, retail outlets and home shows as well as my home studio.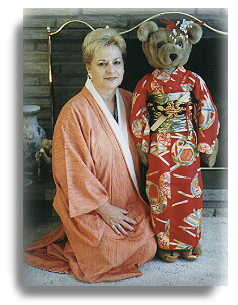 Furooki


Furooki is 42" tall and made of imitation mink recycled from a coat, wearing a vintage silk kimono with obi and brocade cord. She has a "netsuke" attached to her kimono and a fan. Her feet are made with a big toe so that she can wear actual Japanese shoes - a child's size with little bells in the heels. She is one-of-a-kind, and while not for sale, a similar one can be ordered.
---
Stirling Bears
c/o Yvonne Stirling
33 Helmsdale Drive
Kanata, Ontario
K2K 2S2
Phone: (613) 599-1374
Email: stirling AT sympatico.ca