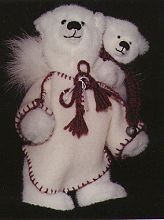 Toyucktuck 10"
Tuc 6"
They are made of mohair and ultrasuede,
are fully jointed with hard board disk joints.
Hand blown glass eyes.Stuffed with polyfill and
glass beads. Toyucktuck wears a wool Inuit nursing
or Bundle jacket with fur trim and wool embroidery.
Tuc who sits in her hood has a crochet scarf
with bells on the ends.
I am a budding Teddy Bear Artist hailing from Calgary, Alberta and have been in the business of creating and making Teddy Bears for the past two years. As a pen & ink and water colour artist as well as an Interior Designer, I attempt to create unique and distinctively Huggable Bears.

My collection is made up of a series of bears which sport Belgium embroidery, freckles as well as natural appearing creations. In addition to my bears I also create Teddy Bear friends with a new twist added this past January, 1997, in which all of my bear creations now wear a bell with a personal tag saying, "Every time a bell rings an Angel Bear gets its wings."
The media for BEAR-IT-ALL BEARS are German mohair and miniature fabric with eyes of blown glass. All bears are fully jointed with hardboard disc joints.

BEAR-IT-All BEARS are sold in Trade Shows, retail outlets in the USA, as well as through my home base studio. Enquiries and sales are welcome and I may be reached in several ways listed below.
- Wendie Spitzer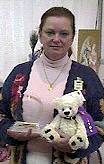 Paulatuck
SOLD OUT
12" white mohair with leather paw
pads, blown Glass eyes, filled with Polyfill
and glass beads. Fully jointed.
Paulatuck won the 1997 Canadian New Artist Award
sponsored by Bears and Beyond.