"Chandler" is the guilty one - the three foot polar bear my mother made me for Christmas four years ago - he started it all! Soon I was creating my own designs and before I knew it I was timidly cutting my first piece of mohair, praying I would not ruin it! There has been no turning back!

After I began making bears it was not long before I was approached to make heirloom bears from fur coats. Now I work regularly with real fur, wonderful European synthetics and of course mohair.

With the encouragement and support of my family I have opened a bear shop in our home where I showcase my bears and have supplies for other bear artists. It is on the busy bear days that Chandler "suddenly" moves slightly just so that I need to rearrange him - I think it is his way to remind me who it was that started everything!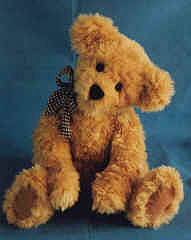 Casey
Casey is 14 inches tall. He is made from German synthetic with upholstery velvet foot pads. He has glass eyes, is fully jointed and is stuffed with polyfill and pellets.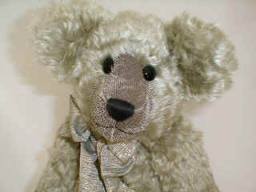 McGinty
15 1/2 inch McGinty is made from dense, moss green wavy mohair. He has suede paw pads. He is firmly stuffed so he can either sit or stand. He has black premium German glass eyes.