Carolyn Routledge started Bumble Beeee Creations in January 2000. Since that time she has developed many of her own patterns and has sold bears across North America and England.

Carolyn's most unique bears are her giant 52 inch creations, like Henry, shown in the picture with three of Carolyn's smaller bears. Henry recently won 1st place in the Teddy Bear Competition at the Red River Exhibition in Winnipeg, MB and was a real attention getter for visitors.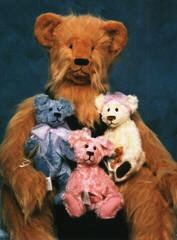 Henry
All of her bears are fully jointed (yes, even the giant ones!) and have German glass eyes and hand embroidered noses and mouths. One of Bumble Beeee Creations most popular bears have been the pandas. Ming is the latest addition to the panda family and is made from German mohair.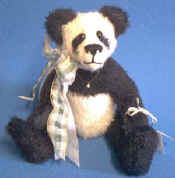 Ming

Carolyn has also created bears from vintage fur coats upon request.