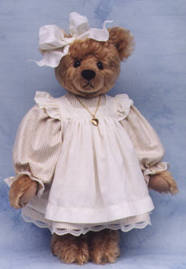 16" Antique Portrait Collection

Dense light gold mohair, glass eyes, Ultra-suede paws. Each bear is dressed slightly differently, but the overall theme is the same, with a dress in soft beige or tan, and a pinifore over top in cream or off-white. Each bear has a pendant and a bow.
Open Edition.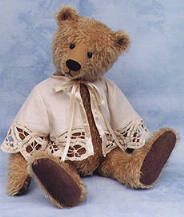 13.5 " My Olde Teddy


Sparse mohair in a variety of
colours, glass eyes, Ultra-suede paws, and stuffed with a mixture of fiberfill and pellets. Each teddy has a jacket made from an old-style embroidered or lace tray cloth.
Open Edition.
I started making bears in 1991, after a trip to England, where I saw bears all over the place. I had only intended to add a bear pattern to my line of commercial craft patterns for dolls, cows, rabbits, etc., but as so often happens, I was bitten by the bear bug! I still do some bear patterns for sale, but the majority of my designs I keep for my own finished creations.
I attend about 3 to 4 bear shows a year, advertise in Teddy Bear and Friends magazine, and sell through a couple of retail stores; these outlets along with the custom orders and direct telephone sales are enough to keep me busy and out of trouble.
Please contact me if you see something you would like, or would like to discuss what else is available - Happy Bear Hunting!
Jane Perala
2405 Hemer Road,
Nanaimo,British Columbia
Canada, V9X 1J3
Phone: 250.722.3134




Email: perala AT islandnet.com