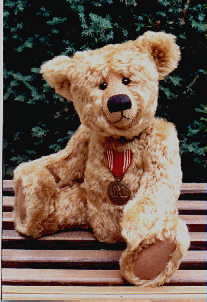 Oliver

Oliver is a real old fashioned teddy bear just made for hugs. He is 14 inches tall and made out of the softest Schulte mohair. He is fully jointed, has premium glass eyes, wool felt paw pads and is polly/pellet filled. He wears a WW11 medal for Good Behavior.
I began making teddy bears in 1996 and started designing my own in 1997. Initially working in acrylic ( I didn't know anything about other fabrics then), I moved onto mohair almost immediately and have never looked back.

My teddies range in size from 6 inches to 24 inches. I love scouring antique shops, flea markets and even yard sales for that extra special accessory.

I have always been "crafty" and over the years have dabbled in all sorts of crafts and sewing has been a part of my life since I was a young girl. However, I have no idea where my love of teddy bears has come from. I never had them as a child nor am I a true collector now. I just know that I love to bring those little faces into the world.

Most of my creations are one-of-a-kinds, although I am beginning to do very small limited editions.

I currently sell my bears through teddy bear, doll and teddy bear and better craft shows and also through "Just Bears" on Bellair St. in Toronto's Yorkville district, and of course, through my website.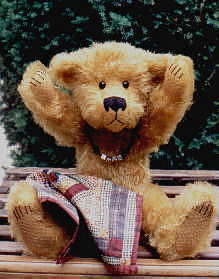 "Up Mommy"

This little bear is 14 inches tall and is made out of
hand distressed mohair for that well-loved look.
He (she?) is fully jointed, has premium glass eyes, embroidered
features, and shaved mohair paw pads. He wears a necklace with "love"
spelled out and carries a tiny quilt.