These award winning teddy Bears are designed and created by a young Canadian artist.

Marcie Redgwell (nee Patton) began making teddy bears after a trip the Calgary Bear Fair when she was 17. After that first one she was hooked. Marcie began designing her own patterns in 1996, and selling them in 1998. Marcie enjoys entering local contests and so far has won numerous awards including: 3 ribbons at the Calgary Stampede Handicraft Competition; A second place ribbon at the 1998 Bear Fair, and most recently Best of Show at the 1999 Bear Fair.

Marcie's teddy bears come in all sizes. From miniatures to full size bears, they are all made using the finest materials, and a they are stuffed full of love.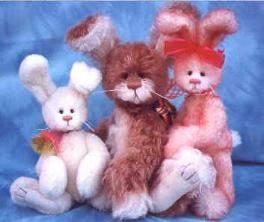 Snuggles, Tucker & Blossom
Snuggles is a 10" bunny made of a wool/ mohair/ alpaca blend. Tucker is everyones favorite, he won 2nd place in the 1998 Calgary Stampede handicraft competition. He is made of two colours of mohair. Blossom is the sweet little girl of this trio. She is made with pink tipped mohair.
All of these bunnies have wired ears and are stuffed with love (and polyfil, glass and plastic pellets).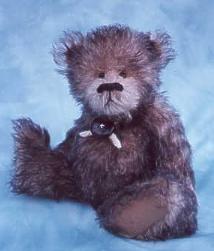 Rascal
Rascal is a very sweet bear made from tipped mohair. He has a long snout, and fat squishy body, filled with polyfil, glass and plastic pellets. Rascal is 11 1/2" tall.