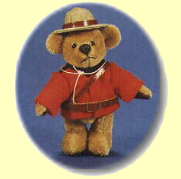 Mountie
2-1/2" high, thread-jointed.

All leather dressings are authentic and his coat is 100% wool.
My name is Helen Lena Murray and I have been designing and creating miniature bears for six years. Sizes of bears range between 1 1/2" to 4". I work mostly with upholstery velvets and mohairs. All of my bears are polyester stuffed, have glass beads or balls for eyes, and are either thread or disc-jointed.

My bears are currently sold in shops in Canada, the US, Australia, Singapore, the U.K. and Japan.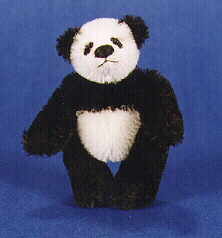 Panda
3" tall mohair bear.
Entirely disc-jointed.
An i.d. tag is sewn into the back seam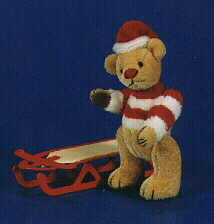 X-mas Bear
A 2 5/8" bear that is entirely disc-jointed.
Seventy-nine pieces and components are
required to make this bear!
Comes with a wooden sled and you can choose
from red or green for the sweater, nose and hat.