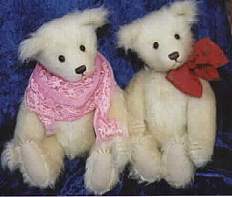 The Karoo Critters
17 "
South African "karoo mohair"
wool paws
colour enhanced glass or black eyes
softly pellet filled
Susan's artistry is the result of sheer determination, dedication and a little bit of good luck. Coming from a background in music and dance, "the creativity was there, it just had to be nurtured and channelled."

Fortunately, a Teddy Bear store opened locally, run by two very talented ladies who provided the introduction to soft sculpture art and shared their mastery of sewing and design. Although primarily self taught, "many other gifted artisans have been instrumental in my development as an artist and my creations are my thank you to all who have encouraged and inspired me."


Yanni L/E 25
26"
extra dense, curly distressed tipped mohair
leather paws
glass eyes, growler
airbrushed "moustache"
antique reproduction Indian cotton collar
1999 TOBY AWARD winner!


Susan derives much of her inspiration from the namesake of her latest creation - musician and composer, Yanni.


Yanni