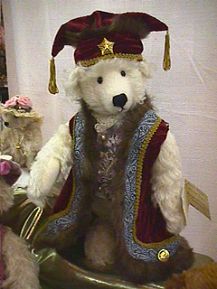 Prince Igor
Polar Bear 15", mohair, ultrasuede pads,
glass eyes, polyester stuffing
fully jointed, one of a kind
SOLD
I began making teddy bears in 1987 using book patterns and synthetic fur fabrics. A teddy bear convention I attended in 1988 inspired me to use mohair and to design my own patterns to develop my own style of bear. My background in art and sewing helped greatly.
Michele Clise's Ophelia books motivated me to dress some of my 16 to 18 inch bears as Victorian ladies and gentlemen and then to create environments for them. These became the rooms of Bearington Manor, presided over by Sir Geoffrey and Lady Rosalyn Styles, who always had many distinguished guests visiting them.
My bears range in size from 6 to 20 inches, are made of mohair, fully jointed, have glass eyes, and polyester or poly/pellet stuffing. Each wears a JR Bears logo pin. They are mostly one-of-a-kind.
I consider my teddies to be "bear persons". Each personality is developed through body proportion and gesture, choice of mohair, and with the emphasis on facial details, and finally through choice of accessories, or perhaps a complete costume.
For me the joy in making bears is in experimenting with new ideas; creating bears that seem to hold within them a unique story about who they are; bears that will bring a smile to all who love teddy bears.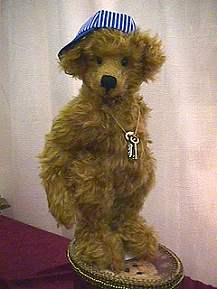 Robbie
12.75", English mohair, ultrasuede pads,
glass eyes, poly/pellet stuffing
vintage keys on string around neck
One-Of-A-Kind
SOLD