First off, I'd like to say that there are many FABULOUS artists out there and everytime I see an artist bear, I smile!

Self taught, I started making a bear one day. My boyfriend, now husband was working on his car and I wanted something to do...now 5 1/2 years later I have made over 100 bears! It is an addictive hobby, I brought a friend of mine into the obesession and she's hooked too!

I enjoy making bears that are of the smaller scale, but I will gladly make a bear of almost any size. I have recently set up my own web page so that my bears have the opportunity to touch the world.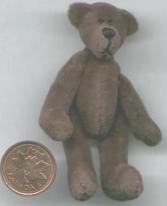 Jaxon
String jointed Jaxon, 2 1/2", is made from dark brown upholstry velvet, with almost matching ultra suede paw pads. He has glass bead eyes, and black perle cotton embroidered nose and mouth. He has a daisy on his right foot.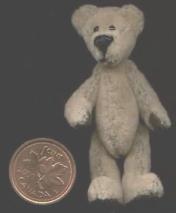 Miles
Miles, 2 1/2 " is made from light tan upholstry velvet, with dark brown ultra suede paw pads. He has black glass bead eyes and his nose and mouth are embroidered with black perle cotton. He has a 'Daisy' on his right foot.