Take a walk down a cool, shady, tree lined path to a tiny honeysuckle covered cottage, hidden at the edge of a hollow deep within the woods. If you peek through the ivy covered window you may catch a glimpse of wonderful, whimsical bears at play. At twilight the bears come out to dance in the garden and pick the flowers that grow in abundance there. Be very quiet -- they are very shy and if you are seen, they become motionless – yet definitely not lifeless -- anything but ordinary – waiting... The twinkle in their eyes assures you, that when you turn your back they will come to life again and begin to play.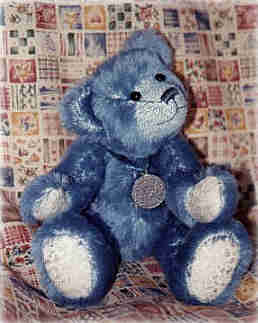 B.Z.
size 9-1/2"
made of mohair, tapestry paws.
Pattern also available.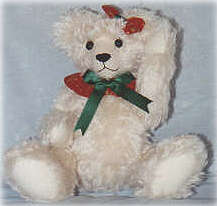 Aldara
"winged gift" size 13"
made of mohair, felt paws.
The bears of Honeysuckle Hollow are created by Julia Deimert, who has been designing stuffed animals since she was very small. The endearing expressions on her bears tug at your heart and says "please take me home." The bears are available in small editions (some of only one or two), which means there is always something new to see. Julia also has patterns available of some very special bears to help you make a bear of your own.