My name is Gail Hancock and I have been making teddy bears from my own designs since 1996. I had previously made them using commercial patterns but after taking design courses taught by Diane Gard and Vanessa Littleboy, I finally found the courage and confidence to design my own. My confidence was further bolstered when I entered two bears in the competition held during the Hug-In Convention in Toronto in 1997. One of the bears placed second and the other one received honourable mention.

The bears that I make at present range from 8" to 20" and are usually made from mohair, acrylic, natural fur or other fabrics that appeal to me. The mohair and the bears accessories that I use will vary according to availability. All bears are designed for the collector and as such are not suitable for children.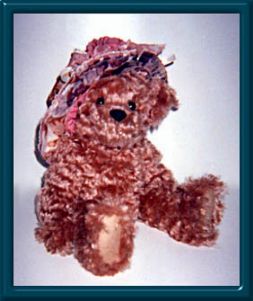 Olivia

Olivia is 14" and made from mohair. She is fully jointed, has black glass eyes, is poly-pellet filled and has paw pads of wool felt or ultrasuede. Her handmade hat is fully lined and may be adorned with feathers, ribbons, bows etc.
Lilac is a 12" bear made from lilac coloured mohair. She is fully jointed, has black glass eyes, is polyester filled and has ultrasuede paw pads. She wears a hat made from black wool felt and sports a string of pearls.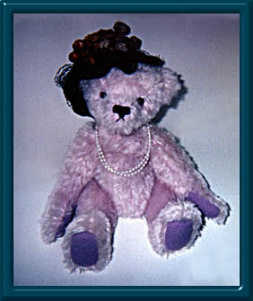 Lilac