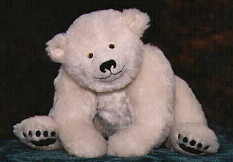 Brunswick
17" (head to tail), limited to 50 pieces
Extra dense German mohair; fully-jointed;
glass eyes; ultrasuede eyelids (hand-stitched);
Toe pads on all four paws; double-neck
joint which allows him to look forward on
all fours or sit on his haunches and
look ahead; weighted with a
poly/pellet combination
We offer a wide variety of exquisite, Canadian-made artist bears. All are handcrafted from original designs using the finest materials - German & English mohair, imported synthetics and ultrasuede.

Embroidered features and imported, hand-blown glass eyes give each bear a unique personality. These fully-jointed bears are weighted with a poly/pellet combination, giving them the unique ability to pose in many whimsical positions.

We have also taken care to include with each bear a personalized, wooden name-tag and a certificate of authenticity that includes its date of birth and registration number.
FUZZ BEAR & FRIENDS also offer recycled heirloom fur bears that make great gifts to both preserve family heritage and add value to any bear collection. Although we do not support the termination of animals' lives for this purpose, we do believe that it is a useful way to transform a cherished garment into a treasured collectible your whole family can enjoy! Our complete line of bears range in size from 7" to 30".
Sophie
20" tall; limited to 40 pieces.
Extra dense curly German mohair, fully-jointed
glass eyes, weighted with a
poly/pellet combination ultrasuede pawpads