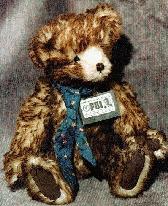 MULDER
Mulder is 15 inches tall and made from German Tipped Mohair. He's a limited edition. He's poly/pellet filled, with synthetic suede paw pads, amber glass eyes and a growler. He comes with a tie (different to picture) and a laminated FBI badge.
---
We emigrated from England to Canada in 1982. I've had teddy bears in my life, almost all my life - my first bear, Tilly, was a present from my Mom when I was six years old (he unfortunately perished in a house fire when I was in my teens). It's Tilly who inspired me to try my hand at teddy making! I call myself a "Hobbyist" as opposed to an Artist, although I design my own bears, I've only been making them since 1995. I have quite a large Hug including Mr. Bear, a 1930s Chiltern who lords it over all the other bears, three bears by Barbara Buehl of Vancouver and bears from Jane Perela, from Vancouver Island. I have bears from American artists too and manufactured ones, mostly Hermann. I also sell teddy bear supplies including German mohair.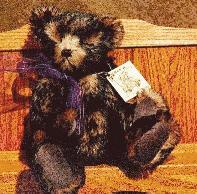 BILLY
Billy is 17" tall and made of Tipped German Mohair. Billy is named after famous fictional English character, Billy Bunter, because he has a rather large tummy! He has veleteen paw pads and is poly/pellet/shot filled, for weight!
---