The very essence of what is good in us seems to be captured in teddy bears. They reflect our range of moods and emotions. The teddys that we love most are those in which we recognize something familiar. It may be an expression or a pose, it may remind us of a friend or a relative.

These are the qualities that we seek to capture. These are the essences that we hope to place in our bears. We hope that you may come to love some of them as we do.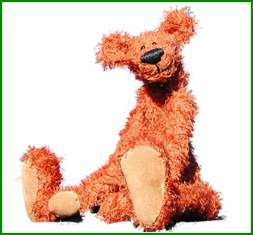 Raffi

Raffi is made from hand dyed cottonstring. He is filled with fibre fill, plastic pellets and steel shot. His eyes are glass and his pads are ultrasuede. Raffi is fully jointed and stands 16"tall.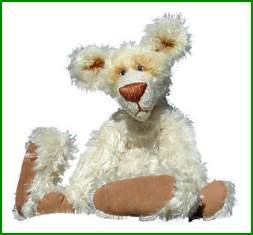 Arnie

Arnie is made of mohair and filled with fibre fill and plastic pellets. His paws are ultrasuede. Arnie has blue glass eyes. The hand tinting around his eyes and in the ears accent his "just right" sized nose. Arnie is fully jointed and stands 15"tall.