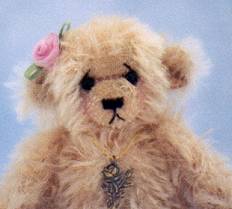 Kate
4" tall, fully jointed, made from hand dyed string mohair,
her face is needle sculpted and hand stitched.


I knew I had finally found the perfect artistic outlet for me when I found Miniature Bears! The parts were tiny and it was exactly the type of precision work I love to do. So I took my skills from a lifetime of sewing, much of it detailed work, added my education as a draftsperson and began designing and stitching my little ones.

I have Lupus and Fibromyalgia so it takes me longer to finish a bear than most artists. I spend hours with my little ones, stuffing every bit of character I can into each one. And I don't quit until they tell me they are finished. Once a bear from "Teddy Bear Mine" goes up for adoption, it has to speak for itself! It has to tickle your heart. Hopefully my bears do exactly that!

I love what I do. Every day I play with fabric, threads and colours. Everyday I create somebody new. Every day I sew a hug that will hopefully bring joy to someone's life.

Albert Einstein said, " Imagination is more important than knowledge. Knowledge is limited. Imagination encircles the world."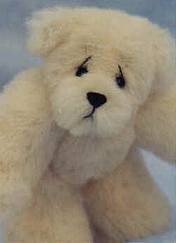 Nicolaas
4 3/4", white Alpaca with hand textured paw pads,
German glass eyes, hand stitched features, inset muzzle
stuffed with polyester fiberfill and steel shot, fully jointed.