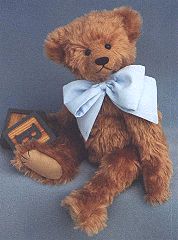 Becky Buehl Bear
Open Edition
18" tall, available in a variety of mohairs and trims, fully jointed, bent legs, black glass eyes, black embroidered nose and claws, poly-pellet filled.
I first began designing and creating my teddy bears and bunnies in 1986 as special occasion gifts for family and friends. My first show and sale took place at the 1989 Hug-In Convention in Toronto. In past years, Buehl Bears have been privileged to receive Best of Class and First Prize Ribbons at Teddy Bear shows and conventions.

Buehl Bears are recognized for their unique expressions and classic proportions. They are created with love and care from the finest imported mohair and alpaca fabrics. Buehl Bears have found loving homes throughout Canada, the United States, Europe and Australia. Many wonderful friendships have evolved between collectors and myself from this special relationship.

I've always felt that one of the most endearing qualities of teddy bears is their wonderful ability to bring happiness and comfort to people of all ages.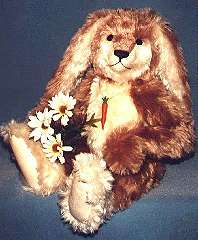 Clover Buehl Bunny
Open Edition
17" tall, dense distressed taupe and ivory mohair, fully jointed, black glass eyes, dark brown embroidered nose and claws, poly-filled, wearing hand-sculpted "one-carrot" necklace.

Similar bunny designs available in a variety of mohair and sizes.