Thanks for dropping by! I live in scenic Minnedosa - Manitoba - the valley of the friendly people.

A bit of history:
January 2001 "Louis The First" was created, a brown faux fur Teddy Bear from a kit.

Spring of 2002 the first "LottieBears" were listed on ebay and moved to many countries including USA, Austria, England, Germany and Canada.

2003 was a special year for my husband Hans and me when our design "Miss Rose Maylee" won the Canadian ACE Award (Artistic Creations of Excellence). She is a 6 1/2 inch bear lady crafted from pearl mink. Like all the real fur bears she is lined and 5-jointed.

April 2004 Teddy Bear Review Magazine (USA) featured "Miss Charlotte Rosely" in their 'Best of the Best Preview 2004'. A very exciting moment! She is a 4 1/2 inch bear girl crafted from blonde mink.

Looking back on our 'Bear History' and into the 'Bear Future' we look forward to connecting with many more special and wonderful people all over the world!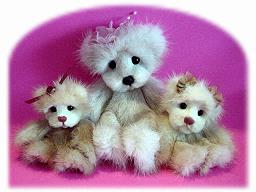 L to R: "Zoë" (mink), "Miss Rose Maylee", "Miss Charlotte Rosely"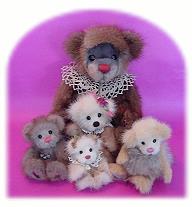 assorted teddies - muskrat, mink & fox
(from 14" to 4 1/2").